Speed and Strength Training

Speed, power, agility, explosiveness, and endurance; these are the benchmarks that divide good athletes from elite competitors. Regardless of how naturally gifted an athlete might be, the thing that will ultimately bring their game to the next level is the work they put in off the field.
That's why the team at EFX Fitness has designed a strength and conditioning program specifically aimed at athletes who are trying to maximize their on-field potential. We've built our athlete training regiment with input from some of the great minds in New England strength and conditioning including a former strength coach for the Boston Red Sox, Boston Bruins, and the U.S. Women's Olympic hockey team. We offer training for all levels of athletes, from youth players to professionals.
Whether you're trying to make your little league all-star team, your high school's varsity team, get noticed by a D-1 college or even play in the big leagues, your preparation needs to start in the weight room. Our proven training program will help you perform at the top of your game when the season starts.
What does the training program consist of?
Our program incorporates a little of everything that is valuable for athletes. We take weight lifting, quickness and agility drills, plyometric and cardiovascular exercises and incorporate them into efficient 45 minute daily workouts. On any given day an athlete might be squatting heavy, flipping a tire, running a speed ladder, swinging a kettlebell, or performing one of various functional movements that will help them get faster, stronger, and in peak condition. We prioritize the safety of our athletes above all else, thus we take time to teach proper form and mechanics to ensure the absolute lowest risk of injury during one of our training sessions.
What training environments do we offer?
Personal training

– we will work with an athlete one-on-one, and take them through comprehensive workouts designed for the specific physical skills demanded by their sport.

Team Training

– We can get the whole team together at our facility and put them through an intense group workout. We love working with teams, because friendly competition between players tends to bring up the intensity level and maximize the effectiveness of the training.

Semi-Private

– Our small group environment offers the best of both worlds. Rather than a full team, we restrict these workout groups to a four person maximum. This allows us to offer a lot of one-on-one coaching to each athlete, and at the same time gives them a peer who will help motivate and push them through the workout.
Who's doing the coaching?
Our trainers know how to effectively train athletes, because we are all directly involved in Southern New Hampshire athletics. All three of us are also strength and Conditioning coaches at schools. Coach Jeff is a former professional baseball player with the Tel Aviv Lightning and Nashua Pride and currently works at The Derryfield School as the Phys Ed teacher and Strength and Conditioning Coach as well as the Baseball Coach. Coach Stephan is a former middle and high school Basketball Coach. He also played college Basketball at NHTI and Plymouth State. We also have had the privilege of training the Manchester Monarchs, our former local ECHL hockey team. Michael Bistany, the facility's owner, is a Strength and Conditioning/Football coach at Trinity High School, a youth hockey with the NH Avalanche and a former Goffstown Junior Baseball coach. Michael is extremely passionate about working with young athletes. Regardless of whether you're a pro or just getting started in your athletic career, we have the knowledge and resources on staff to get you physically ready to take your game to the next level.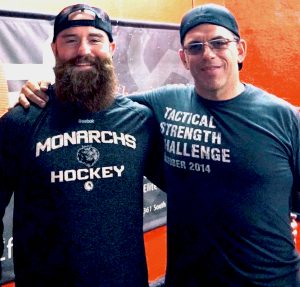 "We Make Fast, Faster!"
Our goal is to simply make you faster…
Something all athletes need!!
Contact Michael Bistany
(603) 785-1514
[email protected]
NH Urban Sport is excited to announce a partnership agreement with EFX Fitness providing the members of each organization terrific money-saving discounts. 
EFX Fitness members get $10 off an 8-week season of their choice with NHUS, which is currently registering for youth flag football. Season starts on May 28th. NHUS is all about fun and socializing with new friends. You can learn more by visiting NHurbansport.com, to get your $10 discount.
NHUS players get a reduced membership at EFX fitness located at the NHSportsdome. The team at EFX Fitness has designed a strength and conditioning program specifically aimed at athletes who are trying to maximize their on-field potential. Learn more at http://www.EFXfitness.com
TESTIMONIALS
---
"Great Trainer to Work With"
I really enjoy working with Mike, he takes the time to know his clients. The workouts are designed with each individual in mind. Kettlebell workouts are great, he challenges you all the way while making sure you have proper form and technique during the whole set. Mike guides you through each and every move. He will keep you motivated to do your best! It is amazing that you can feel the difference within yourself so quickly! I always look forward to my next session.
By Beth Crossley / Pelham, NH