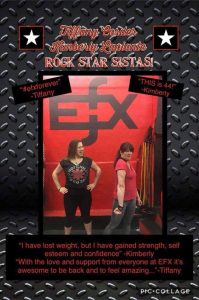 "THIS is 44! I started at EFX in November 2017, not even three months ago! I have lost 18 pounds and 6% body fat. I have lost weight but I have gained strength, self esteem and confidence. I do workouts I never thought I could handle! I feel so strong! EFX has truly changed my life, my perspective, My Body! Thank you Michael, David, "the girls" and my supportive sister and co-ROCK STAR of the month, Tiffany! I'm just getting started!"
-Kimberly
"I remember starting with EFX a few years back. Going in that first day…I got so much support and kindness. After that first session I knew I found something special. I felt like a warrior. I was going to gain control over my body again.
At that time I was going through a tough time but with the help of my trainer "Mike" and co-trainees I got through it! EFX brought me back and I found myself again! I gained courage and strength while losing the extra weight and insecurities in my mind.
Fast forward to now…after having my two beautiful kids I'm back at EFX working hard to get my body and mind back in top shape. It was with ease to jump right back in. With the love and support from everyone at EFX it was awesome to be back and to feel amazing once again. EFX is my home away from home. It will always be." #efxforever -Tiffany