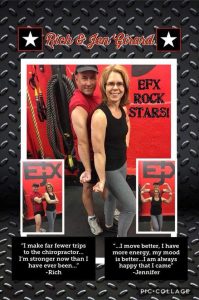 EFX client of the month Jordan McCluskey!!!!!
Jordan has gained 12 pounds of muscle and has improved his benchpress from 135 pounds to 175 pounds in a matter of 5 months!
"Unlike most gyms where you are just a number, training at EFX has allowed me to work 1 on 1 with trainers, which has helped me exponentially in regards to gaining muscle. I came to EFX looking to improve on certain areas, and with the help of the trainers here, I have been able to follow workouts that are tailored to my needs. I would like to personally thank Mike, Tyler, and Dave for continuing to help me reach my goals, and I look forward to achieving the new goals I've set for myself." — with Jordan McCluskey.